Just Trespassing By
Just Trespassing By

GOAL
In this game, you're given 1 task: get in touch with someone you've never seen, based on what your friend told you about this person. Being very profound, your friend only talked about this person's expected behavior when you'd meet, which is not the most helpful thing, but hey.


SAVVY THEME
This time we've mixed our theme 'Personal Space' with the Weekly Game Jam's theme 'Same But Different'. We wanted to point out that even if people look alike, everyone has their own notion of where their personal space begins.


CONTROLS
Mouse Only.


ABOUT US
We are Savvy Community!
We are a bunch of savvies who want to put together playing and learning!
We gather one day per week in Lyon (France) and Discord to create a game about society, the world and humans living together in it.
Because a game doesn't have to be serious for you to learn things from it, join the community and let us create savvy games together!
CHEERS!
Made with love by Delphin Casado, Ghislain Mirat, Tom Rivière, Frédéric Urien and the excused sorryness of Lola El Koubi & Juliette Pereira.
Comments
Log in with itch.io to leave a comment.
This game is so Funny! HAHAHA XD good job creator of this game!
I think this is a cool little concept! If there was a few levels it would be a smart little game idea with the different way people react to the closeness. Kinda struggled but got there in the end :)
Hi Robson!
Thank you so much for the featuring and the kind words! It's weird that you couldn't see your pointer in the game, we'll investigate that.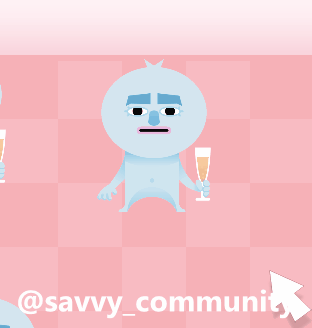 We made this game in more or less 8 hours to experiment game mechanics making one think about 'Personal Space', we do these 'jams' about 'real life topics' every now and then (up to once a week). We'll definitely work on the prototypes again someday, your ideas are welcome if you want to be involved ;).
Thanks again.